Epos Originale 3437.132.20.18.25 watch
Posted on 28 January 2021 at 11:01 AM
Sometimes we want to highlight one specific watch brand or watch model from our collection. Simply because we believe it deserves more attention, and we would like to tell you more about the brand or specific watch. The watch brand Epos is such a brand. A brand that appeals to us because it produces beautiful watches that are less known, but are certainly no less in terms of quality and finish. In this blog article we write about the background of Epos watches and one watch in particular, the Epos Originale 3437.132.20.18.25 watch.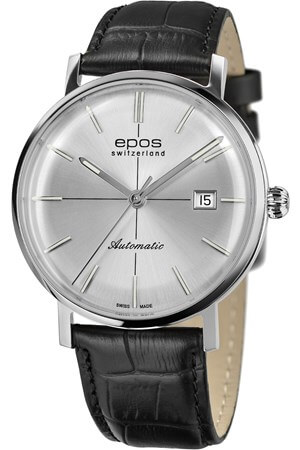 With the watch brand Epos, we are talking about a brand that has made a long journey in terms of development and history. Epos was "born" in 1925 in the "Vallée de Joux", also known as the "world of mechanical watches". After that follows a whole history in which designers and owners succeed each other, but where development and innovation have never stood still. Epos focuses on watches with mechanical and automatic movements. Over the years, the company tries to remain true to the slogan within the company, which is: "the artistry of watchmaking", according to Swiss tradition. This means that Epos watches over the years consistently deliver the high Swiss quality that this country is so proud of. A Swiss watch should always be durable and reliable, you should always be able to count on it. You can absolutely expect this from an Epos watch. Of course you also expect from a quality watch that it has a stylish appearance and that materials have been chosen that are durable. This is certainly the case with Epos watches.
In terms of quality and appearance, Epos is comparable to more expensive watch brands, but simply with a better price. This makes this brand attractive to a wide audience. After all, the enthusiast with a less broad budget can also go here and the price certainly does not detract from the quality in this case. In other words, Epos offers a very good price/quality ratio and is known for this. The fact that Epos is a somewhat smaller brand does not mean that it is not known. The connoisseur and lover of a beautiful watch will certainly have seen this brand pass by. Moreover, as a smaller brand, Epos pays extra attention to detail and finish. This can certainly be seen in the final products. The finishing of the watches is usually done by hand, with a keen eye for detail. The Epos collection is also diverse and extensive, each watch equally stylish and special.
The Epos collection houses different series of watches. Within these series we see watches with a diversity in appearance. From classic to modern, Epos has it all! There is also a lot to choose from when it comes to watch straps. We see different materials, such as leather, rubber and stainless steel. In this article we would like to bring a specific model of Epos to your attention from the Epos Originale series. We are talking about the Epos Originale 3437.132.20.18.25 watch. This model from Epos can best be described as classic, modest and stylish. The calm character of this Epos watch is obtained by, among other things, combining the silver-colored dial with also silver-colored hands and numbers. The particularly beautiful leather watch strap is black and keeps things quiet. This Epos watch is equipped with the Swiss made automatic movement from ETA, the 2824-2. With this timepiece you are assured of a watch that accurately displays the time and is also reliable and durable.
The Epos Originale 3437.132.20.18.25 has a watch case made of stainless steel, 39 mm thick. Furthermore, the watch is equipped with extremely strong sapphire glass, which ensures that any scratches will hardly be visible. After all, you want your watch to stay beautiful for a long time. Another special feature of this watch is the transparent bottom. The watch is waterproof up to 50 meters and closes with a buckle clasp. Finally, Epos offers extra functionalities with this watch, namely a second hand and date display.
Because this watch from Epos has a minimalist appearance, both in terms of design and use of color, this watch is easy to combine with a nice outfit. This stylish watch will suit almost any look, making it a suitable piece of jewelry for any man. Because a men's outfit is only really finished with a nice watch on your wrist!
A beautiful watch from Epos cannot be missing for the enthusiast and collector either. A watch with an automatic movement of Swiss origin is a real mus thave. In an automatic watch we see the purest form of watch technology. This is further emphasized in the above-mentioned watch by the see-through bottom. Epos watches are among the best in the world in this field, so as an enthusiast, an Epos watch is an absolute asset!
Epos only aims for the very best. When an Epos watch is ready, it is therefore individually checked again before it is sent to the customer. You will receive your watch from Epos after ordering, so in perfect order! With an Epos watch you are stylish, up to date and provided with a special piece for a longer period of time. So take the time to take a closer look at the Epos collection, it is well worth it!