Escada watches | Swiss made | Discount
Posted on 18 May 2021 at 10:30 AM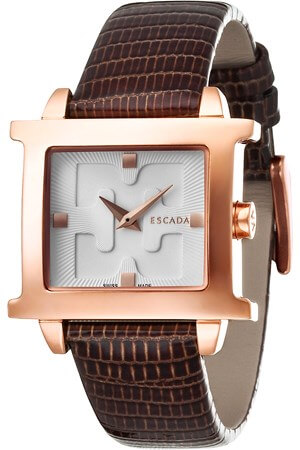 While the quality watch seems to play a major role, especially in the men's world, the modern woman is increasingly finding her way to watch brands that flawlessly combine fashion and quality. A ladies watch offers that little bit extra compared to the other jewelry from which a woman can choose. This is not only due to the fact that a watch is functional in the sense that it displays the time and sometimes also the date. With a watch you tell something about yourself as a person. After all, you choose a watch according to your personal taste, but often also with the style of your wardrobe so that it can be worn with most of your outfits. A quality watch can also serve as a kind of status symbol, just like for a man. It is an expression of class and style, you want to show that you have taste.
When you as a woman look for a high-quality watch, you will find that there is a lot less choice than for men. But of course there are beautiful watch brands that offer timeless designs in combination with sublime quality. Switzerland is the place to be for optimal watch quality. The watch brand Escada has understood this well. They offer a nice collection of Swiss made ladies watches that are comparable to well-known brands, only better priced. Escada watches are therefore characterized, among other things, by a good price/quality ratio, which makes the brand accessible to a wider audience. The advantage of a small brand like Escada is that they pay extra attention to quality and finish. What is also striking about the watches from Escada is, among other things, the beautiful design of the watches.
Quality, diversity and class are fitting words to describe Escada's watch collection. So many women, so many tastes, Escada understands that well. Not only in terms of price, but also in terms of the appearance of the watches, Escada focuses on a wide target group. This means that for women with different personal tastes there is a wide choice within the collection, each model equally stylish. When we look at the use of materials, but also with regard to color schemes and the shape of the watch case and the type of watch strap, every fashion-conscious woman can indulge herself when viewing the collection. Although the watches from Escada certainly fit the fashion image of today, you can certainly go there for a timeless watch that will always remain appropriate.
Various series can be described within the Escada collection. We will highlight some examples in this article. Starting with the Escada Catherine watch series. In this series we find watches with a stainless steel watch bracelet in both silver, gold and rose color or a combination of these. The dials of the Catherine watches are color-matched to the bracelet and case and have a calm design. The dial has a Roman index. In terms of material, hardened mineral glass and the aforementioned stainless steel have been chosen. The watches are equipped with a Quartz movement and are waterproof up to 30 meters. The watches close with a folding clasp and they are equipped with a folding clasp.
Another beautiful series from the Escada collection is the Escada Lauren watch series. Here too we see the stainless steel band in different colors. The dial of these watches is white, with black or blue accents. These watches are also equipped with a Swiss made quartz movement and are waterproof up to 30 meters.
The third series that we will review is the Escada Estelle II watch series. This series has a completely different look than the two aforementioned series. The watch case is square, which immediately gives the watch a completely different look. With regard to the color of the watch case, there is a choice of silver, gold or rose. The watches are equipped with a particularly beautiful leather watch strap. The dial is white, with colored hands to match the watch case. The relief that can be seen on the dial is striking. Of course Escada again opts for a Swiss made timepiece (quartz) and thus also for perfect quality. The watches from the Escada Estelle II series close with a buckle clasp.
In short, the modern woman and Escada are a match. If you are not only looking for a fashion item, but really go for quality, you can wear a watch on your wrist for a competitive price that you will enjoy for a long time. When you have become interested in Escada watches, it is worthwhile to take a look at our webshop. We now offer different Escada watches with a nice discount. This means that you can now choose quality for an extra competitive price.
BensonTrade is official dealer of Escada. Each Escada watch comes in a luxurious official box, with manual and a 2-year warranty. We have all models available from stock and are currently competitively priced. Take a quick look at our Escade watch collection!