Posted on 14 June 2022 at 1:06 PM
If you are looking for a Swiss top quality watch winder, the Swiss Kubik brand is an absolute must see. It is not without reason that Swiss Kubik is recommended by many renowned Swiss watch brands for winding automatic watches. The Swiss Kubik watch winders are designed by hand with great passion and enthusiasm. Swiss Kubik is a brand that makes watch winders with a clear identity. For example, all Swiss Kubik watch winders are cube-shaped and compact.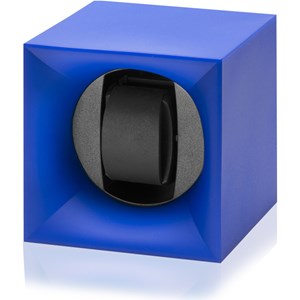 The brand offers watch winders with a diverse capacity and in various price ranges. For example, both the enthusiast with a single watch and the avid collector of automatic watches can contact Swiss Kubik. When manufacturing the watch winders, the brand uses different types of high-quality materials, which ensure that each individual watch winder has its own character. For example, wood, leather and aluminum are used. Also in terms of color you can go in all directions at Swiss Kubik. The brand is therefore able to serve a wide audience.
For the development of the watch winders, Swiss Kubik uses the knowledge and skills of the most experienced Swiss craftsmen. The brand is continuously looking for improvement. The drive for innovation is evident in the fact that the brand has already managed to present its 6th generation mechanisms within 10 years. Swiss Kubik finds its suppliers all within a radius of 50 km from the factory in Givisiez. They have built up a relationship of trust with all their suppliers. They therefore value human relationships and are convinced that this way they can get the best out of each other to develop a perfect end product. Swiss Kubik does not want to leave anything to chance in this area. All parts of Swiss Kubik's high-quality watch winders must be delivered perfectly and then assembled in an extremely professional manner.
Despite the extremely high Swiss quality of the Swiss Kubik watch winders, it is certainly also possible to purchase an excellent watch winder from the brand at an attractive price. The collection of Swiss Kubik consists of different series of watch winders. With the models from the Swiss Kubik Startbox series, you choose an entry-level model from this prestigious brand. This means that you choose the very best in the excitement of your automatic watches, but without all kinds of extras and bells and whistles. A good example of a model from the Startbox series is the Swiss Kubik Startbox Blue. This watch winder is made of polyamide and comes in a clear blue color. The same model is also available in colors such as orange, red and gray. Of course, this watch winder is also cube-shaped and very compact and handy. This has several advantages. It is easy to give this watch winder a nice place, since it does not require much space. In addition, this also makes it easy to take the watch winder with you on a trip or, for example, to the office. Because the watch winder can function for up to 3 years on a set of AA batteries, it is also possible to safely store your watch winder and watch in a safe.
Like every Swiss Kubik watch winder, the Swiss Kubik Startbox Blue is equipped with a Swiss made motor. This provides a powerful excitement for any type or brand of automatic watch. In addition, this motor ensures that the watch winder functions in silence, for optimal user comfort. In addition, the watch winder is programmable. Of course, the watch winder is equipped with an overwind protection against overvoltage. If you want, you can choose to expand this watch winder with a special protective glass. When you order this, it is possible to close the watch winder. This way you not only protect your watch extra well against damage, but also against moisture and dust, for example. Swiss Kubik also offers the option of ordering smaller watch holders. These watch holders ensure that even very small ladies or men's watches can be placed in the watch winder without any problems.
With the Swiss made quality of the watch winders from Swiss Kubik, the brand offers without a doubt a 3-year warranty on every watch winder. When you choose a Swiss Kubik watch winder, you can be sure that you will enjoy it for years to come. You can choose from an extensive range of Swiss Kubik watch winders in our webshop.
As an official dealer of this exceptional brand, we also offer you the best service and the latest collections. If you need professional advice or answers to your questions, you can of course contact us. With a Swiss Kubik watch winder you never have to worry about your watches standing still. You therefore opt for the maintenance and preservation of your watches. A Swiss Kubik watch winder can therefore be called a very good investment, especially for your automatic watches!