Benson Black Series watch box
For the modern man, the watch is often the accessory that completes an outfit. Most men therefore consciously choose a watch of good quality that appeals to them. There are also men who buy a specific watch for different occasions and outfits. In addition, there are men who collect quality watches, such as Breitling, Rolex, Longines, IWC and Omega, as a hobby and who own a collection of these.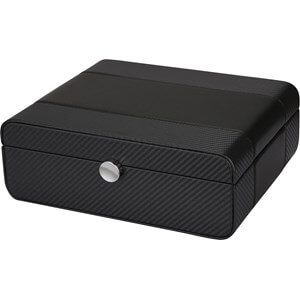 If your watch or watch collection is dear to your heart, you naturally want to be able to store it safely and in style. For automatic watches, a watch winder is often chosen as a storage place, which also ensures that the watches are supplied with the necessary energy. However, a watch box is recommended for watches with a mechanical or quartz movement. A good quality watch box is sturdy and also offers sufficient protection on the inside against damage and external influences. Preferably, it is moreover closable. Of course, the eye also wants something. A watch box that is made of high-quality materials and where care and attention has also been paid to design and finish is therefore often preferred.
If you are looking for a watch box that meets the above conditions, the Dutch brand Benson is a very good option. Benson manufactures high-quality watch winders, but also offers watch boxes in which the real enthusiast would like to store his watches.
Benson opts for high-quality materials, a luxurious appearance and a perfect finish. In addition, the price/quality ratio of the Benson watch boxes is very good. With this you choose a very high-quality watch winder at a competitive price. The Benson collection of watch boxes consists of different series, of which the Benson Black Series watch boxes are the most luxurious. In addition to the Black Series, Benson also offers the Benson leather series watch boxes and the watch boxes from the Orange series, which are certainly worth a look.
The Benson Black Series watch boxes are available with different capacities. This series offers watch boxes for 3, 8 or 12 watches. In this way, both the enthusiast with a few watches and the real collector can contact Benson. In addition, it has been decided to make different colors available, such as black, blue, dark brown and carbon fibre. This means that there is a Benson watch box available for every personal preference. The watch winders from the Black Series are made of beautiful leather on the outside. The inside of the watch boxes is provided with a soft fabric, for optimal protection of your watches. What stands out are the fine stitching and the Benson logo which is printed in the leather. This emphasizes the beautiful finish of the Benson watch boxes once again. Above all, the brand offers a sense of luxury.
The Benson Black Series watch boxes are designed in such a way that almost all watches will fit in them. Oversized watches also fit effortlessly into these fine watch boxes. The watch boxes from the Black Series can be closed with a lock. This way you know for sure that they are safely stored and that you are the only one who can access them. In addition, your watches are protected against external influences, such as dust, dirt and condensation. The watch boxes have a compact design, so that it is easy to find a place for them. Benson has thought of everything to make your watches as comfortable as possible.
All in all, with a watch box from the Benson Black Series you are assured of the best quality at the best price. Benson has thought of all the details and taken care of everything down to the last detail. With a watch box from the Black Series you choose style and class and you offer your watches the very best. In this way, you can store your watches clearly, neatly and safely together.
When you decide to purchase a Benson watch box from the Black Series, you will receive it with a 2 year warranty. This shows that Benson has a lot of confidence in the quality of the watch boxes and that is not for nothing. Would you like to take a closer look at the Benson Black Series watch boxes? You will find clear photos of all sides of the watch boxes in our webshop. This way you have a clear and good idea of ??what the watch boxes look like in real life.
In addition to the qualitative and high-quality watch boxes, Benson also offers watch winders which they have manufactured in-house. In this way they know how to keep the quality high and the price attractive. So are you looking for a good watch winder? Then you have come to the right place at Benson. Benson offers a wide collection of watch winders with which every enthusiast and/or collector will be able to find a suitable watch winder. Just like the watch boxes, the Benson watch winders have a luxurious appearance and a sublime finish.
You can order easily, quickly and safely in our webshop. You can pay with credit card, Paypal and Ideal. We ship worldwide with DPD, Post NL and Fedex. So order your favorite with confidence and choose real quality!
Read more >>Posted on 16 August 2022 at 12:39 PM