Posted on 4 July 2020 at 4:59 PM
Although it is well known that Switzerland is the watch country pur sang and that watches and watch winders of excellent quality come from there, our own little country also offers very nice options in the field of watch winders. Benson is a relatively young Dutch brand in this field. Benson knows how to produce high-quality watch winders in-house and is therefore not only able to deliver high quality, but can also offer these at a competitive price. You can check Benson for a watch winder that winds every automatic watch safely and easily, is made of high-quality materials and has a very attractive price level. Benson watch winders also offers modern design and technology with a unique price/quality ratio.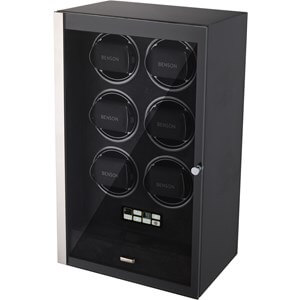 Various types of watch winders can be distinguished in the Benson collection. They offer watch winders for 1 watch, but also watch winders for the real collector with a larger capacity. You can think of watch winders for 6 watches and watch winders for 12 watches. The Benson Smart-Tech II 6.18.B watch winder is a luxury watch winder with room for six automatic watches. Ideal for the real collector or professional. The watch winder is made of wood and glass and has a modern look. The Japanese motors with which this watch winder is equipped ensure that the watch winder also works very quietly in the longer term. This ensures optimal user comfort. Moreover, these motors are also energy efficient and durable.
The Benson Smart-Tech II 6.18.B watch winder offers various modern gadgets and extras. For example, the innovative luminous touchscreen with which you can set the direction of rotation and the number of revolutions per day if desired. The built-in LED lighting is also an advantage, because it allows you to view your watches during winding. The watch winder also has a power winding function, with which you can easily provide your watch with the required energy in a short time. The indispensable overwind protection is also included.
As an extra advantage, this highly functional watch winder offers a drawer for storing other watches or jewelery and, for example, cufflinks. The drawer offers space for up to six extra watches. A unique spring system ensures that the watch holders are suitable for both large and small watches and watches with large or small wrist size. The watch winder is therefore suitable for any automatic watch, regardless of the type or brand of watch.
We are an official Benson reseller. In our webshop you will find the latest collection, clear warranty and competitive prices. We supply almost every Benson watch winder from stock. You can order the Benson Smart-Tech II 6.18 B watch winder quickly and easily in our webshop. You will then receive the watch winder carefully packed, including a manual and a one year warranty.