Posted on 28 November 2023 at 3:01 PM
Are you a fan of automatic watches? Maybe you have a nice watch from Breitling, Rolex, Seiko, Oris or Patek on your wrist. Then you have certainly heard about the watch accessory watch winder.
Watch winders are available in all shapes and sizes and with various capacities. This means that there is a suitable watch winder available for every enthusiast and collector of automatic watches. When choosing a suitable watch winder, it is important to go for high quality, so that a safe and efficient method of winding is guaranteed. This not only ensures that your automatic watches are properly wound, but also that they receive the best care.
A good quality watch winder can therefore always be called a valuable investment. If you not only prefer a high-quality watch winder in terms of technical aspects, but also a watch winder with a luxurious and exclusive appearance, there are also several options. There are high-end watch winder brands that offer watch winders with a unique and very exclusive design, with which you are guaranteed to put your automatic watch or watches in the spotlight. Depending on your personal preference, there are watch winders within this category with a modern and sleek look, but also watch winders with a more classic character. A particularly exclusive brand that offers watch winders with a classic design is the Swiss brand Bernard Favre.
The man behind the Bernard Favre brand is Mr. Bernard Favre himself. As a designer and inventor, he developed a very unique design for the brand's collection in 2009, namely the so-called 'Planet watch winder'. In this watch winder model, every type and brand of automatic watch is supplied with energy because it rotates around its own axis. This makes the comparison with the planet, from which the name of these special watch winders originated. The Planet watch winders were presented to the public by Bernard Favre on April 19, 2011 and are now indispensable in the watch industry. If you are looking for an elegant and original watch winder for a single automatic watch, a Bernard Favre Planet watch winder is the absolute cream of the crop. The Planet watch winder is available made from various high-quality materials. You can think of stainless steel, stainless steel PVD, carbon, leather and even gold. By using different colors and materials, Bernard Favre's Planet watch winders offer a very attractive alternative to both enthusiasts with a preference for classics and those looking for a sturdier model.
In this article we would like to pay more attention to a specific Planet watch winder from the Bernard Favre collection, namely the Bernard Favre Planet Gold watch winder. This watch winder is made of stainless steel and has a very luxurious appearance due to the beautiful combination of the black base with gold-colored rings. When the automatic watch is placed in the watch winder, the supplied glass bell can be placed over the watch winder. This is a wonderful addition to the already extremely stylish watch winder and also offers protection against various harmful external influences, such as condensation and dirt, for example. You can view your watch through the glass at any time. For the true enthusiast, the winding process will be a feast for the eyes. The Bernard Favre Planet Gold watch winder has a Swiss made motor and a very reliable and energy-efficient base. Because the watch winder is also equipped with a built-in battery for 100 days, you hardly have to worry about this.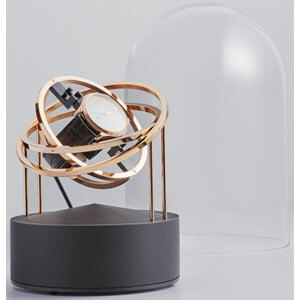 When the watch winder needs to be charged, this is easily done using the handy USB connection, via mains power, PC or smartphone. If you want, you can also store the Bernard Favre Planet Gold watch winder and your beloved automatic watch in a safe thanks to the handy battery. In addition, the watch winder is equipped with a special LED indicator that indicates the status of the watch winder. This means you know immediately how things are going at any time. Furthermore, the Bernard Favre Planet Gold watch winder is equipped with the CW, CC and Alt programs and overwind protection. This last functionality ensures that your automatic watch is not at risk from overvoltage. The number of revolutions is also adjustable, so that you can provide your automatic watch with exactly the right winding method. In short, with the Bernard Favre Planet Gold watch winder you choose a Swiss made watch winder with a very unique and exclusive appearance, which can easily supply any automatic watch with energy. With this watch winder you can always be sure that your automatic watch is ready for use. In addition, with this model you purchase a real eye-catcher, with which you can give your automatic watch a real stage.
Would you like to order the Bernard Favre Planet Gold watch winder or view the various other options of the Bernard Favre brand? Then take a look at our webshop now! Here you can really see the Planet watch winder at work, because we have posted a clear video here. We supply the Bernard Favre Planet Gold watch winder and several other beautiful models from this brand with a 2-year warranty, clear manual and luxurious packaging.