Posted on 6 November 2019 at 2:53 PM
A true enthusiast and/or collector of quality watches will want to store his collection in a stylish and safe way. If you have automatic watches, a watch winder is ideal for this. You can safely store other watches in a watch box or watch case. Just like with the watch winders, there are also various options in this field with regard to capacity, quality and appearance.
A relatively young Dutch brand that offers both watch winders and beautiful watch boxes is Benson. Benson knows how to deliver high quality, in particular because their products are manufactured in-house. This guarantees control with regard to the quality of the end product and it is possible to keep costs low, so that Benson can market its products at a competitive price. A Benson watch box is made by hand.
Regarding the Benson watch boxes, we find a diverse selection in the collection. There are different watch boxes with a capacity of three watches, but also for as many as sixteen watches. In addition, there is a choice of various models and colors. The Benson Black Series watch boxes for example have a very luxurious look and are made of wood in combination with stainless steel. Within this series you have a choice of black, carbon fiber, white and macassar in color and capacity from a watch box for eight, twelve or sixteen watches.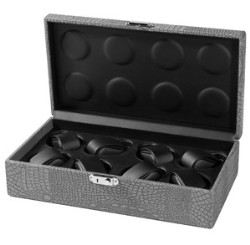 The Benson leather watch box series consists of a large collection of watch boxes made of quality leather. These watch boxes are provided with a fabric inlay and have a sleek and modern look. When you store your watches with these watch boxes you also have the option to always view your watches without having to open the box, because you can look through the lid. There is a choice of various different colors, including vibrant colors such as blue and red.
The Benson Exclusive watch boxes are made of leather with a crocodile pattern. These boxes have a leather inlay and a unique cushion system. In addition, with their luxurious and contemporary look, they are a real eye-catcher in your interior.
We deliver the Benson watch boxes with a minimum of one year warranty.