Paul Design Gentlemen 2+3 Macassar watch winder
Are you a lover of automatic watches looking for a new watch winder? Or do you have more automatic watches and are you curious what a watch winder can do for you? Then read on. An automatic watch can only continue to work if it is provided with the correct movement on time. When you wear your watch, it is provided by the natural movement of the wrist. However, if your watch is not lacking in this movement. To prevent an automatic watch from coming to a standstill with all the associated consequences, a watch winder can take over this movement. Although this is of course the important function of this watch accessory, a good model offers so much more. For example, a beautiful watch winder is also a safe storage place for your watches. For a collector, it can even be a nice method of presenting her watches. In addition, a high-quality watch winder for storing the automatic watch. Standing still is going backwards.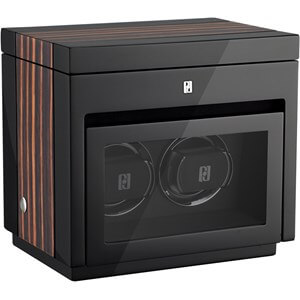 In short, a watch winder is an indispensable and essential accessory when you own automatic watches. Now there are many possibilities in this area, both in terms of quality, design and price. If you prefer a model with a modern and stylish design of high quality at a striking price, Paul Design is definitely an interesting brand. Paul Design is a traditional brand from the UK. The designer and founder of the brand chooses to design watch winders that are very complete and durable and reliable, but that are also affordable. This appeals to a wide audience.
There are also few brands that can go with the Paul Design brand when it comes to the combination of quality and a competitive price. Paul Design also uses Japanese motors. These motors provide safe movement which makes the Paul Design watch winders suitable to wind every type and brand of watch. A nice side effect is that these motors are pretty quiet in use, so you can safely place your watch winder in your bedroom or at your workplace, for example. Paul Design watch winders are equipped with flexible watch holders, so that the design size watch can easily be placed in watch winders.
A good example of a watch winder from Paul Design, especially for the enthusiast of automatic watches with a few automatic watches in possession of Paul Design Gentlemen 2+3 Macassar watch winder. This watch winder not only offers space for winding 2 automatic watches, but also additional storage space for 3 other watches. This way you can store all your watches from each other and in an organized manner. The watch winder is made of wood with a characteristic look. The combination of the wood with the otherwise black exterior of the watch winder gives it a luxurious and stylish appearance. The interior of this model is also black, consistently your watches look extra good. In addition, this watch winder is equipped with built-in LED lighting, so you can literally place your watches in the spotlight when mounted.
The watch winder can also be closed with the glass door. This protects your watches not only against damage and small scratches, but also against moisture and dirt or children's hands, for example. This model has a compact design, so that you can always find a nice place for it. The Paul Design Gentlemen 2+3 Macassar is equipped with Japanese motors, as we are used to from Paul Design. The rotors are individually adjustable, so that you can determine and set the desired direction of rotation and the number of rotations per day for each watch separately. You can easily do this using the modern touchscreen. The watch winder also has an overwind protection. The watch winder gets its energy supply through the adapter.
In short, with the Paul Design Gentlemen 2+3 Macassar watch winder, you have a very complete watch winder where everything has been thought of and which is also attractively priced. In addition, the quality of the materials used is very high, which makes this a durable watch winder. You will enjoy it for a long time. With this watch winder you never have to worry about your watches standing still!
The Paul Design collection is very extensive and, in addition to the Paul Design Gentlemen 2+3 Macassar, also offers various watch winders for the real collector, for example. For example, within the collection we see watch winders for winding 4, 6, 8 or 12 automatic watches.
It is therefore absolutely worth taking a look at the Paul Design collection. In our webshop you will find an extensive range of Paul Design watch winders. As an official dealer of Paul Design, we offer you the latest collections and the best service. We supply every watch winder from the Paul Design collection with a 2-year warranty and a clear manual.
Read more >>Posted on 30 November 2021 at 1:20 PM