Posted on 22 January 2020 at 3:42 PM
The best way to buy a good watch winder is from a specialist. Most jewelers have too little knowledge of watch winders and have virtually nothing in stock. Nevertheless, a watch winder is an important accessory for automatic watches and they are sometimes underestimated. A watch winder is the most important accessory for an automatic watch. Especially when you have multiple automatic watches. The watch winder not only winds the watches so that they are always neatly on time and the oil is distributed properly by the movement, a watch winder also ensures that your beautiful watches are safe. This is because most watch winders have a door or lid, so that the watches are not exposed to risks such as dust, condensation or children's hands.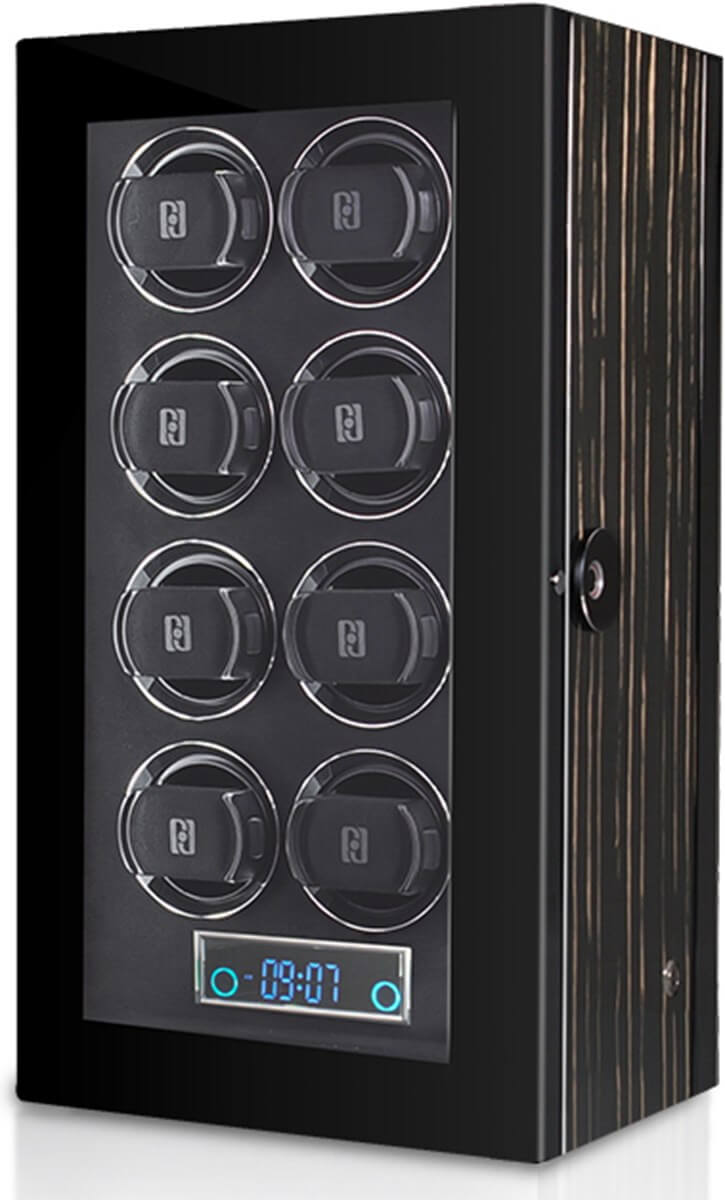 Paul Design is a watch winder brand from the UK that has been producing very good watch winders for several years. The quality is expressed by robust materials, durable electronics and good functionality. In a Paul Design watch winder you wind up every automatic watch without any problems. It doesn't matter which brand your watch belongs to because you can easily set the direction of rotation and the number of revolutions per day. This way the automatic watch always gets enough energy and you can even adjust each rotor individually. You can turn one watch to the right and the other to the left.
The watch winders from Paul Design are comparable to the models from Benson, Heisse & Söhne and Boda Concept. The motors are the same, the functionality too. The design and use of materials differs as well as the prices. However, the price differs but real differences between these brands are small. In this price segment you can buy a great watch winder from the aforementioned watch winder brands that you will enjoy for many years.
A Paul Design watch winder is particularly distinguished by its appearance. They are stately and made of beautiful materials. The brand has various designs such as macassar, black apricot and black shadow. The watch winders are suitable for 1, 2, 4, 6, 8 and 12 automatic watches. So there is enough choice for every watch enthusiast.
The prices of a Paul Design watch winder start at 159.00 euros (Optima One) and run up to 1980.00 euros (Gentlemen 12). The Paul Design Gentlemen 8 and Gentlemen 12 watch winders are worth mentioning. These models belong to the top of Paul Design and offer everything for winding automatic watches in luxury. A Paul Design watch winder is not only meant to provide watches with energy, they are actually also an interior piece and a luxury accessory for automatic watches. The true watch enthusiast and/or collector certainly has a watch winder.
As an official dealer of Paul Design watch winders we have many models in stock and available immediately. Every watch winder comes with 2 years warranty, strong packaging and manual. An adapter is of course included in the package. Are you looking for a good watch winder that will wind your automatic watches quickly and safely, then a Paul Design watch winder is an absolute must.