Benson Black Series Safe 3.22.B watch winder safe
Posted on 2 September 2022 at 10:08 AM
Benson is a Dutch watch winder brand that, due to their acquired knowledge and experience in this area, knows exactly what the real enthusiast and/or collector is looking for in a watch winder. The brand is therefore not only known for the high quality and appealing appearance of their watch winders, but also for the beautiful extras that it has to offer. In doing so, they respond directly to the wishes of the consumer.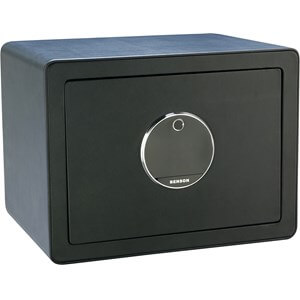 For example, within the Benson collection, various watch winders are available with, for example, built-in LED lighting, a modern touchscreen and/or extra storage space. In addition, Benson knows how to offer an excellent price/quality ratio. Because the brand chooses to have the watch winders manufactured in-house, they can keep a good view of the quality and also keep the prices attractive. Benson also knows how to distinguish itself from other brands because of the diversity within the collection. To start with, the brand offers watch winders with a diverse capacity. For example, the enthusiast with one watch can go very well with Benson, but the real collector also has an extensive choice with this brand. Benson offers watch winders with a very luxurious appearance and winding options for up to 20 automatic watches.
The Benson collection also includes watch winders made of various high-quality materials. The collection consists of watch winders made of beautiful types of wood and different colors of quality leather. Finally, Benson offers watch winders with Japanese motors, but also watch winders with Swiss made motors (the Swiss Series). So there is a suitable watch winder for every personal preference and for every collection at Benson. In addition to the standard watch winders, the Benson collection also offers beautiful watch boxes and even watch winder safes.
With a watch winder safe from Benson you catch 2 birds with 1 stone. You ensure that your watches are wound efficiently and you also store them in the most secure way. Watch winder safes protect your watches against theft, but also against damage and damage caused by, for example, moisture or dirt. Benson now presents the latest generation Black Series watch winder Safe. We would like to take a closer look at the Benson Black Series Safe 3.22.B. This safe has a modern and sleek look and is finished in the color black. The safe is made of stainless steel and therefore extremely durable and sturdy. This model offers space for winding up to 3 automatic watches. In addition, Benson has also provided extra storage space with this safe. This is built into the watch winder safe through a drawer. It has space for storing 8 more watches. Of course it is also possible to use the extra storage space for other things, such as jewellery, cufflinks or important papers.
The watch winder is equipped with Japanese motors. These motors are energy efficient and quiet in use. In addition, they are of course very reliable, so you can be sure that your watches are always ready for use. Each rotor is individually adjustable. This way you can specifically adjust the settings for each watch and create the most ideal conditions for excitement per watch. Setting up the watch winder is easy and fast using the handy and innovative touchscreen. The watch winder offers the programs CW, CC and Alt and an overwind protection. In addition, this model also offers a power winding function. This makes it possible to provide your watches with the necessary energy in a short time. Ideal when you don't have that much time to spend! The Benson Black Series Safe 3.22.B is also equipped with built-in LED lighting and a modern fingerprint lock. With the latter functionality, you are always assured that you are the only one who can access your watches and other valuables.
In short, with the Benson Black Series Safe 3.22.B watch winder safe you choose optimal safety for your watches. In addition, you are assured of the best way of excitement and you opt for a modern and appealing design. And all that at a competitive price! You can all purchase the watch winders and the Benson Black Series Safe 3.22.B from us in the webshop. Here you will also find clear photos, so that you have a good idea of ??the design of the different watch winders and watch winder safes.
When you decide to order the Benson Black Series Safe 3.22.B from us, it will be delivered complete with adapter, spare keys and bolts to anchor the safe in the wall. In addition, you will receive a 2-year warranty with this safe and of course a clear manual so that you can get started right away. We deliver Benson's products worldwide using DPD, Fedex and PostNL. You can also choose different secure payment methods in our webshop, such as credit card, iDeal, PayPal or bank transfer. So you always place your order with a good feeling. So go for affordable quality now and choose a Benson watch winder!