Watch winder for Swiss watches
Posted on 13 October 2021 at 7:47 AM
As a lover of a high-end Swiss automatic watch, you will be keen to protect your watches and therefore choose the best for your watches. After all, you buy a watch from brands such as Breitling and Rolex to enjoy it for years to come. When you choose a high-quality automatic watch, or perhaps even own a collection, a quality watch winder is absolutely indispensable. With this watch accessory you can keep your automatic watches organized and protected together. In addition, you can safely wind your watches with a good watch winder and they are therefore always ready to wear. The time and date are always set correctly, so you don't have to rewind the watch and reset the functions.
Because a watch winder ensures that your watches keep moving, your watches are not only provided with the required energy, but it also ensures a good oil distribution inside the timepiece. In short, when you choose a good watch winder, you do not only choose convenience, but you also ensure the preservation of your automatic watches. In addition, this watch accessory is a safe storage place for your watches and you always have them together.
Watch winders come in many shapes and sizes. There are models available for one watch, but also those that are especially suitable for a collection of watches. Moreover, there is a choice of various brands, each of which has its own vision in terms of appearance, design and use of materials. In this blog article we discuss various watch winders from 3 brands, which quickly makes the diversity in this area clear.
The first model is the Benson Swiss Series Double 2.20 White Leather watch winder. The Dutch brand Benson is known for producing watch winders with a very good price/quality ratio. This property is also evident in this model. This example is made of particularly beautiful leather and is finished in the color white. This gives this watch accessory a luxurious look. This watch winder is suitable for winding 2 automatic watches. The motors of this model are of Swiss origin, which forms a very solid and durable basis. You can easily set the watch winder with regard to the direction of rotation and the number of rotations per day, for each watch separately. Because Benson also uses flexible watch holders, this model is suitable for any automatic watch from brands such as Omega, Breitling, IWC, Rolex and Tag Heuer.
The Benson Swiss Series Double 2.20 White Leather watch winder from Benson is equipped with a special safety system. This ensures that the motor disengages when a watch is placed or removed. As a result, there is never any friction for the motor and gearbox and a long service life is guaranteed. The watch winder works on both mains power and batteries, so you can place it anywhere you want. In addition, this watch accessory is of course equipped with an overwind protection. Finally, with this watch winder you have access to built-in LED lighting with which you always keep your watches in view. A nice detail is that this watch winder is a Limited Edition with which you choose a unique watch winder.
A second watch winder that we want to discuss is the Bernard Favre Planet Gold Plus watch winder. This model from the exceptional brand Bernard Favre will make your Swiss watch from brands such as IWC or Oris look extra beautiful. Winding any automatic watch is a very fascinating sight with this watch winder. During the winding process, the watch is supplied with energy because it rotates around its own axis, as if it were a planet. This is where the special name of this watch accessory comes from. This Gold edition of the beautiful Bernard Favre watch winder has a very luxurious appearance and is a work of art in itself. The watch winder is equipped with a Swiss motor. This is not only of high quality, but also energy efficient and also quiet in use.
The Bernard Favre Planet Gold Plus watch winder has a built-in battery (100 days) and can be charged using the USB connection. The big advantage of this is that the watch winder can also be taken with you on a trip or, for example, to the office. But this also makes it possible to place it in a safe, so that you can store your Swiss watch optimally safely. The Bernard Favre Planet Gold Plus offers all the programs you need to safely provide an automatic watch with energy. This model also has an overwind protection and through the LED indicator you can easily keep an eye on the status of the watch winder. In other words, with this Swiss made watch accessory from Bernard Favre you choose the cream of the crop for your Swiss watch!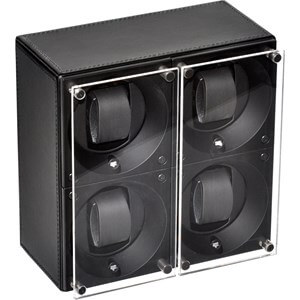 The last watch winder that we highlight also comes from a Swiss brand. It concerns the Swiss Kubik Triple Leather Black SK03.CV001 plexi. Swiss Kubik is known for its compact and cube-shaped designs and that is no different with this model. This watch accessory is suitable for winding 3 automatic watches and is made of black leather. The watch winder is easily adjustable via the USB connection and offers an extremely effective way of winding. Because this watch winder works on batteries and has a compact design, you can easily take it with you. Placing it in a safe is also a good option, because with one set of batteries, this model works for up to 3 years. With this model Swiss Kubik offers an extremely high quality watch winder, with which you choose the best for your watches.
With the 3 above-mentioned high-quality watch winders, we have only given a small insight into our wide range of qualitative models. In our webshop you will find our entire collection of watch winders from various beautiful brands. Here you will find the absolute best for your Swiss watches!