Boda Concept watch winder | Affordable quality!
Posted on 28 June 2020 at 7:39 AM
Are you looking for a quality watch winder at a competitive price? Then Boda Concept is a great brand for you. This watch winder brand is from Hong Kong. Boda Concept knows how to produce good quality watch winders in slightly more classic designs. Despite the more classic shapes, these watch winders do have modern technology. The brand is distinguished, among other things, by its unique price/quality ratio.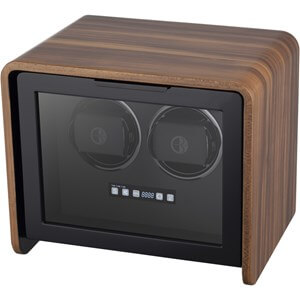 The Boda Concept watch winders are equipped with Japanese motors. These motors are not only of high quality, but are also energy efficient in use. In addition, they do their work almost silently, for optimal ease of use and comfort. In addition, these watch winders are equipped with modern technology and are easy to operate. The watch winders from Boda Concept are equipped with an innovative touchscreen. This makes it possible to operate and set the rotors individually in terms of the direction of rotation and number of revolutions per day. This means that you can set the watch winder specifically for your watches so that they can be properly powered.
The LED lighting that the watch winders from Boda Concept are equipped with allows you to keep a very good view of your beloved watches while winding. The Boda Concept watch winders are also suitable for any automatic watch, regardless of the brand or type of watch. The watch holders are adjustable and therefore adaptable to the size of the watch, making it suitable for both men's and women's watches.
In the Boda Concept collection, watch winders are available with various capacities. For example, there is a suitable alternative available for the enthusiast with a few watches and for the real collector. In the Boda Concept collection you will find both a watch winder with space for two watches and a watch winder with a capacity large enough for twelve watches. For the watch winders, beautiful materials are chosen, such as wood, carbon, stainless steel and glass. They therefore have a stylish and luxurious appearance, which makes a valuable addition to your watch collection and interior.
Watchwinders.com is an official dealer of Boda Concept and we therefore offer a nice range of Boda Concept watchwinders. When you order a watch winder from Boda Concept in our webshop, you will receive it with an adapter, manual and of course a two-year warranty at home.
Moreover, we currently have various watch winders of this brand available with a nice discount, an excellent opportunity to choose this beautiful brand.