Orbita Avanti watch winders
Posted on 28 November 2019 at 2:30 PM
A good quality watch winder is considered a vital part of a collection of automatic watches. But even if you own a single automatic watch, a watch winder is a must have. An automatic watch only keeps the time accurate and accurate when the watch is provided with the right movement. When the watch is worn, it automatically receives natural movement. Logically, a collection of automatic watches cannot always be worn and you will not always wear a single watch. Then it is important that the watch is supplied with energy by a watch winder. These come in various shapes and sizes and quality and price ranges. Orbita watch winders is a good example of a famous watch winder brand which offers great value for money.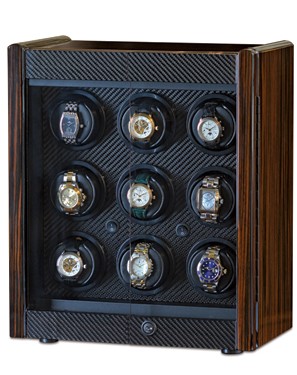 Orbita is a high-quality American watch winder brand that was founded in 1996 by Chuck Agnoff. The watch winder brand is a true concept within the United States. Before the brand actually started producing watch winders, the people at Orbita set themselves the goal of learning everything about automatic watches and thus developing the most efficient and mild way of winding an automatic watch. The corporate philosophy of the brand is: "creating products with lasting value and exceptional attention to detail, as well as products that people like to use." The high end Orbita watch winders are manufactured by hand with the utmost care. Due to the continuous development and craving for innovation, Orbita has been able to secure various patents in the field of technology and movement. For its watch winders, Orbita opts for Swiss (Swiss made) motors, which are known for their reliability and durability. The brand also opts for the very best in design and material use. The classic designs are characterized by mostly wooden cabinets in which the watch winders are built. This high-quality wood comes from Italy.
What makes Orbita so special is that they offer two ways of winding up. The so-called "Programmable System" is the most common way of winding up. Orbita also offers the "Rotor Wind System". This system ensures the correct movement for the watch by "rocking" the watch. This is a very innovative system on the watch winder market. In addition to choosing from these two systems, Orbita offers watch winders with very different capacities, from a single watch to thirty-six watches. In other words, for every enthusiast or collector of automatic watch, Orbita provides a suitable watch winder.
In our webshop you will find a very extensive range of Orbita watch winders. We deliver these watch winders as standard with a two-year warranty and user manual.