Orbita Avanti watch winders | Swiss made technology
Posted on 17 February 2021 at 6:22 PM
When you are looking for a watch winder, and not just any watch winder, but really the a high end model then there are many models to choose from. A watch winder that stands out in terms of quality, design and technology. Where do you start searching? After all, there is a lot available in the field of watch winders. When you spend your money on a watch winder, you want the very best for your automatic watches. If you are an enthusiast with a single automatic watch, you will end up with different models than if you are a watch collector. After all, as a collector you need a watch winder that offers space for all your watches. Depending on how many watches you have in your collection (or perhaps still want), you will look for a watch winder with the right capacity. Not all watch winder brands offer a suitable watch winder with a large capacity for the collector.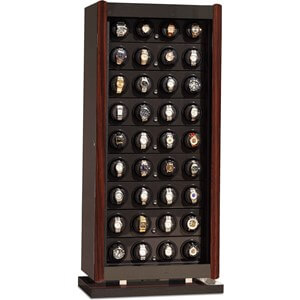 When you as a collector are looking for a watch winder for your watch collection, you can very well check out the American brand Orbita. Orbita is a watch winder brand that offers the absolute top when it comes to watch winders for the collector. The high-end watch winders from Orbita are characterized, among other things, by a traditional design combined with the most modern techniques. If a watch winder with a classic look appeals to you and quality is very important for you as well, Orbita is definitely a good choice. The Orbita watch winders are equipped with Swiss motors, absolutely the best of the best. These motors are not only durable and reliable, but also energy efficient and virtually silent in use. This ensures optimum user comfort. You place the watch winder in your bedroom, living room or office, without being bothered by annoying noises during the winding process.
Orbita is one of the oldest watch winder brands. Because they have innovation and development high on their priority list and because of their many years of experience, they have several patents to their name. The best known of these is the Rotorwind System developed by them. Orbita uses both the Programmable System (the calibrated way of winding by rotating the watches) and the Rotorwind System for their watch winders. The watch winders that work with the Rotorwind System provide the necessary energy for automatic watches by gently shaking the watches.
The Orbita watch winder collection is divided into different series of watch winders. The Orbita Avanti series is the best that Orbita has to offer. This series of this high-end watch winder brand belongs to the absolute top! The watch winders in this series are made of beautiful wood and have a classic design. The wood used for the Orbita watch winders comes from Italy. As we are used to from Orbita, these watch winders are of course equipped with high-end technology and Swiss motors. Orbita knows how to serve almost every collector with this watch winder series. There are Orbita Avanti watch winders available with a variety of capacities. For example, within this series we find watch winders for 3 automatic watches, but also for no less than 36 automatic watches. And then several options in between. The Orbita Avanti series therefore consists of various models. Each model is suitable for any type and brand of automatic watch.
It is therefore possible to set each rotor separately in terms of direction of rotation and number of rotations per day. This way you ensure that you specifically set the required needs for each watch. The watches are attached to flexible cushions in the watch winders. These special cushions are made of a type of foam and feature the Orbita logo. These provide optimal protection against wear. It is possible to order special smaller watch pads for smaller watches. The Orbita Avanti watch winders can be closed with a glass door. In this way you ensure that your watches are protected against external influences, such as dirt, dust and condensation. It also gives the watch winder an extra luxurious look.
As icing on the cake, the watch winders from the Orbita Avanti collection offer extra storage options for extra watches. Of course you can also use this space for storing other jewelry or, for example, cufflinks. In this way you can easily keep all your jewelry together. The Orbita Avanti watch winders are also provided with overwind protection and inlaid carbon. These watch winders offer the programs CW, CC and Alt.
All in all, Orbita is a watch winder brand with class and style. With an Orbita watch winder, and in particular the Orbita Avanti watch winders, you can be sure that everyone is looking directly at your watches. You also have a nice storage place for your collection and with the beautiful wooden cabinets with glass doors, every watch winder from Orbita ensures that you have a perfect display for your watches! Whether it concerns a large or smaller collection of automatic watches, the Orbita collection is definitely worth a look!
Watchwinders.com is official dealer of Orbita watch winders. We offer you security, service and competitive prices. Each product is original and will be shipped well packaged with an insured service. Are you looking for a beautiful watch winder from this brand, take a look at our webshop.