The popular Benson Smart-Tech II watch winders
Posted on 4 December 2018 at 4:52 PM
In 2011 Benson presented the first generation of the Smart-Tech watch winders. This series of watch winders was hugely successful because of the unique price/quality ratio and the many functions with which you could easily wind up every automatic watch. Because every Benson Smart-Tech watch winder had a touch screen, the exact desired settings could be chosen for each watch. The LED lighting, stainless steel feet and the drawer to store other watches and jewelery provided the "finishing touch".
A few months ago, Benson presented the successor; the Smart-Tech II watch winders. This new generation of watch winders is based on the series from 2011 but has several new functionalities and has been further developed. A power winding function has been added, the door is now completely made of glass for an optimal view of the watches and the watch holders have been further developed so that every watch can now be easily inserted and removed. In addition, more attention was paid to details and finishing. All this together makes them very good watch winders that can be used for all type and brands of automatic watches.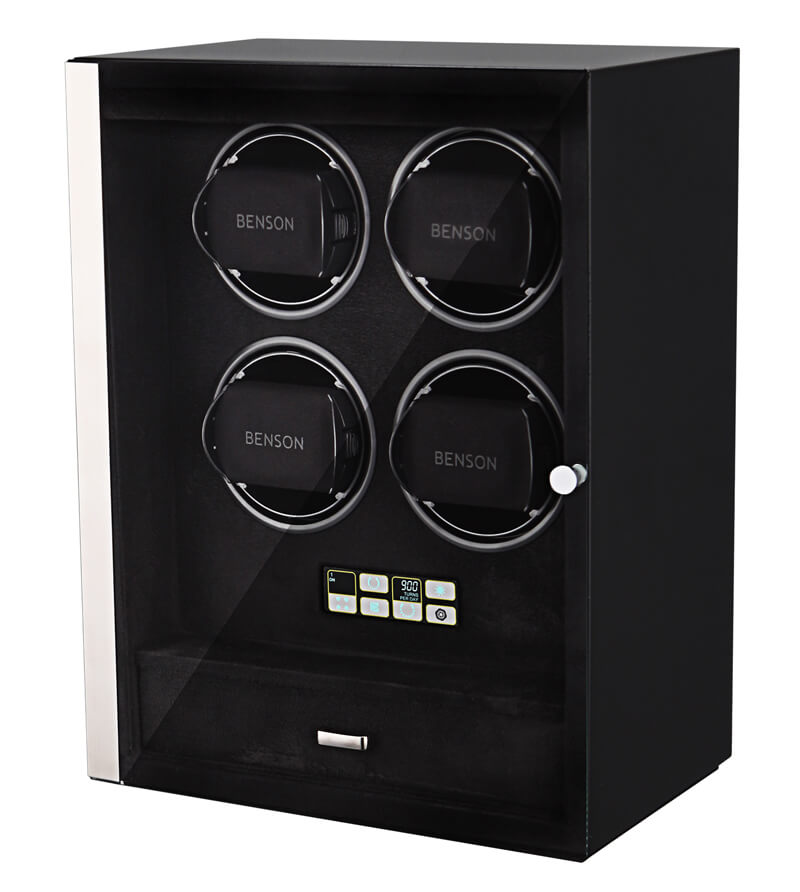 In addition, the Japanese motors have been renewed and replaced for more powerful, more durable and more efficient engines, so that the watch winder uses less power and is also better suited for heavier and larger watches.
The price/quality ratio is still unique. There is no other watch winder brand where you will find such a quality watch winder for this price. An important advantage is that every Benson Smart-Tech II watch winder comes with a 2 year warranty. This guarantee is valid internationally so you are always flexible.
This new generation Benson Smart-Tech II watch winders is available from stock and available for 2, 4 and 6 watches. Each watch winder comes in a strong package with manual and universal adapter (suitable for Europe, United States, Great Britain etc etc).
You can use this Benson Smart-Tech II watch winder for all watch brands, such as watches from Tag Heuer, Breitling, Omega, Oris, IWC, Patek, Rolex, Panarai, Lange & Sohne etc etc.