Watch winder for 6 watches
Posted on 25 July 2021 at 7:48 AM
The watch winder as a watch accessory is becoming increasingly popular. If you own an automatic watch, you don't want to let it stand still, because that's what happens if you don't wear it for a while. Then you need to power the watch again and reset the time, date or other functions. Clumsy and uncomfortable. You prevent this with a watch winder. This watch accessory is not only very handy and good for the durability of your automatic watches, it also looks very cool! Your automatic watches run smoothly and are immediately ready to wear. What more do you want?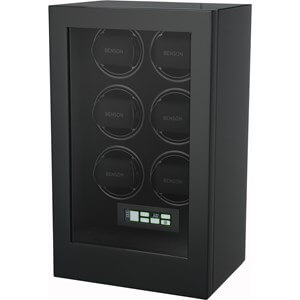 If you have several automatic watches, you will quickly end up with a larger model. In this article we write about a watch winder for 6 watches.
If you, as a lover of automatic watches, are in possession of 6 to 8 automatic watches we can already call you a real collector. A suitable watch winder naturally belongs to a collection of automatic watches. A watch winder for 6 watches is extremely suitable in this case. After all, it can provide the necessary movement for the energy supply of these watches when they are not worn. A watch winder for 6 watches is generally somewhat larger in shape and often offers various nice extras. For example, you can think of extra storage space. A watch winder for 6 watches is usually seen more as an interior piece. You will therefore encounter watch winders in this area where people have really thought about the appearance of the watch winder and also the use of materials. After all, the real collector not only opts for good quality and high technology, after all, the eye also wants something. As far as this specific variant of watch winder is concerned, there is a lot of choice from luxury models in different styles.
We will discuss two high-quality watch winders with a capacity for 6 watches in this article. Starting with the Benson Smart-Tech II 6.20.B watch winder. This watch winder is one of the latest Smart-Tech II models from Benson. Benson is a Dutch brand that has its watch winders manufactured in-house. This has the advantage that not only the quality is very good, but also that the watch winders remain affordable. This makes Benson's watch winders accessible to a wide audience.
The Benson Smart-Tech II 6.20.B watch winder is equipped with high-quality Japanese motors. These motors are not only energy efficient but also virtually silent in use. You can therefore place the watch winder in your bedroom or at your workplace without any worries. In addition to the space for winding 6 watches, this model also offers storage space for no less than 5 watches. Of course it is also possible to use this space for other jewelry or, for example, cufflinks so that you have everything clearly together. The rotors of this watch winder are individually adjustable in terms of rotation direction and number of rotations per day. The watch winder is operated using the modern touchscreen. This watch winder also offers built-in LED lighting that ensures that you can view your watches well, even during the winding process.
The Benson Smart-Tech II 6.20.B watch winder also offers an overwind protection so that the automatic watches are always supplied with energy in a safe and professional manner. In addition, this model is equipped with a speed winding function, ideal if you want to provide your watches with the necessary energy in a short time. The watch winder can be called modern and stylish in terms of appearance. Because the color black has been chosen, it will fit well in many different interior styles. The Benson Smart-Tech II 6.20.B watch winder also has a glass door. Not only does this give a feeling of luxury and convenience, it also protects the watches optimally against external influences.
Another model that is very suitable when you are looking for a watch winder for 6 watches is the Paul Design Gentlemen 6 Macassar. The Paul Design brand offers luxurious, stylish and high-quality models at an attractive price. The most modern technology is used for this. The Paul Design Gentlemen 6 Macassar watch winder has a beautiful wooden exterior and a black interior. This model can be closed with the glass door with a modern fingerprint lock, which ensures that only you can access your watches. With the door you not only keep out dirt, dust and moisture, but you also prevent children's hands near your watches. With this watch winder from Paul Design you choose optimal protection for your automatic watches from, for example, Rolex, Breitling, Patek, Panerai, IWC or Tag Heuer.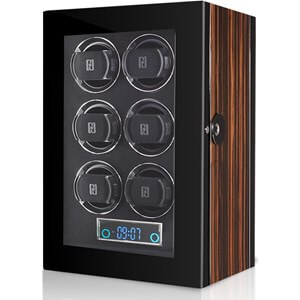 Using the modern touchscreen, you can set the rotation direction and the number of rotations per day, among other things. You can do this individually for each rotor, so you ensure that each watch gets exactly what it needs. Because this watch winder is equipped with built-in LED lighting, you can also use it as a display for your watches. After all, if desired, these are literally in the spotlight. With this watch winder you have overwind protection, just like with the Benson Smart-Tech II 6.20.B watch winder. Because this model is equipped with Japanese high-quality motors, you never have to worry about your watches standing still. These motors are known for their reliability and durability.
In short, the two models mentioned above are both watch winders suitable for 6 watches and both offer reliable motors and good quality. In addition, both are technically very complete. Both models are also suitable for any automatic watch, regardless of the brand or type of watch.
Are you looking for a watch winder for 6 watches? Take a look at our webshop. We are an official dealer of more than 12 brands, all of which are well regarded in the field of winding automatic watches. With more than 15 years of experience, we know what is important if you want to buy a watch winder. We see different brands and models every day and can advise you if you have a question or comment. Feel free to contact us, we will be happy to help you!